INSTITUT FÜR DEUTSCHE SPRACHE
---
Map of Mannheim City Centre
The inner city area of Mannheim with its distinct "chessboard" layout of blocks does not have street names. Instead, the blocks are named by a combination of letters and numbers (see map below). As you can see, the IDS is located at R 5.
However, once you get used to the system, orientation is quite easy, and it is hard to get lost within the central area of the city.
The main shopping area and pedestrian precinct is the "L"-shaped stretch of blocks between K and U 1 and P and O 7.
---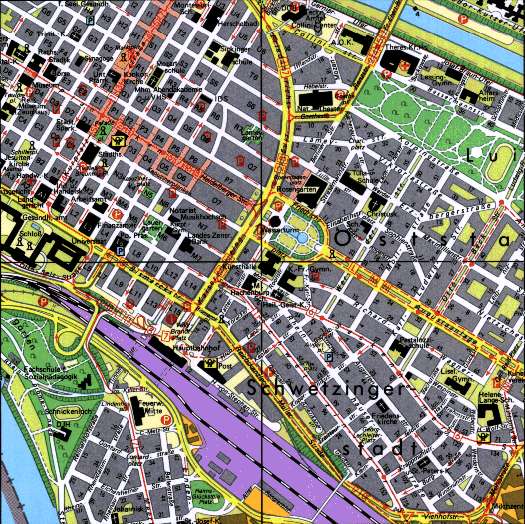 How to reach the IDS by public transport (Tramway):
from Central Station (Hauptbahnhof): (special fare: "Quadrateticket": 1,20 DM, valid only within the inner city (inside the circular road);
available only at ticket vending machines !)

Line 3 (direction "Sandhofen"), or Line 7 (direction "Vogelstang"), get off at "Strohmarkt" (Block P 5): (5 min.)

Please note that tickets are no longer sold in the tramways (except "OEG" or "RHB" suburban lines). They have to be purchased from ticket offices or vending machines, therefore, have some coins ready at hand.




---

Line 1 (direction "Schönau"), or Line 5 and 5R ("OEG" suburban line; direction "Mannheim-Seckenheim"), get off at "Marktplatz" (Block R 1): (7 min.)




---

from Heidelberg-Hbf:

Line 5R of "OEG" suburban tramway (in front of the station building), get off at Mannheim Marktplatz (Block R 1): (ca. 50 min.). In opposite direction, this is also the connection we recommend for visiting Heidelberg, as the OEG trains (tramways, in fact) go right through Heidelberg city centre and are more frequent (especially at night) than the normal railway. Please note that only the "5R" trains travel the full distance between Mannheim and Heidelberg, the "5" trains only run within the Mannheim city boundaries.

---

from Frankfurt Airport:

There is a frequent Coach Shuttle Service, operated by Lufthansa, between Frankfurt Airport and Mannheim City Centre. Single fare is about DM 35,- and the journey takes approximately 1 1/2 hour. The coach stops in front of the Lufthansa office at block M 7, close to the Central Station and within ca. 10 min. walk to the IDS.
---
A "proper" colour map of Mannheim City Centre is available under this address: http://www.uni-mannheim.de/ma-map.html. Further information (in German language) on public transport within the Mannheim area can be obtained from Verkehrsverbund Rhein-Neckar (Rhine-Neckar Regional Transport System).
---
For information on TELRI or this WWW service, please send e-mail to telri-admin@nytud.hu

---
Last updated: 19.11.97